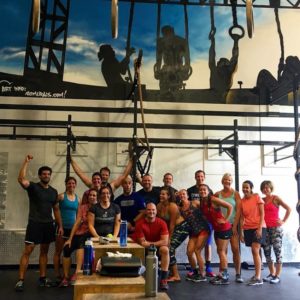 Get Fit → Feel Good → Live Better!
At CrossFit Hook'd we believe that fitness is possible for everyone. And it's essential to living a healthier, happier life.
As a member of Hook'd you can expect:
• Expert coaching tailored to your skill level and fitness goals
• Classes 7 days a week for kids and adults of all ages and skill levels
• FREE childcare on site
• State of the art equipment
• Fun events and competitions
• Group nutrition challenges to help achieve your health goals
• Supportive friendships built around health and wellness
• Increased confidence, strength and flexibility
• Better physical, mental, and emotional health
• Healthy, convenient meal delivery sign-up through Kettlebell Kitchen
The Hook'd Community
CrossFit is so successful because camaraderie builds community.
Our membership base at Hook'd is diverse and includes educators, law enforcement officials, health care professionals, fire-fighters, first responders, stay-at-home moms/dads, military personnel, lawyers, students, business owners, artists, and retirees. New members are warmly welcomed into the Hook'd family.